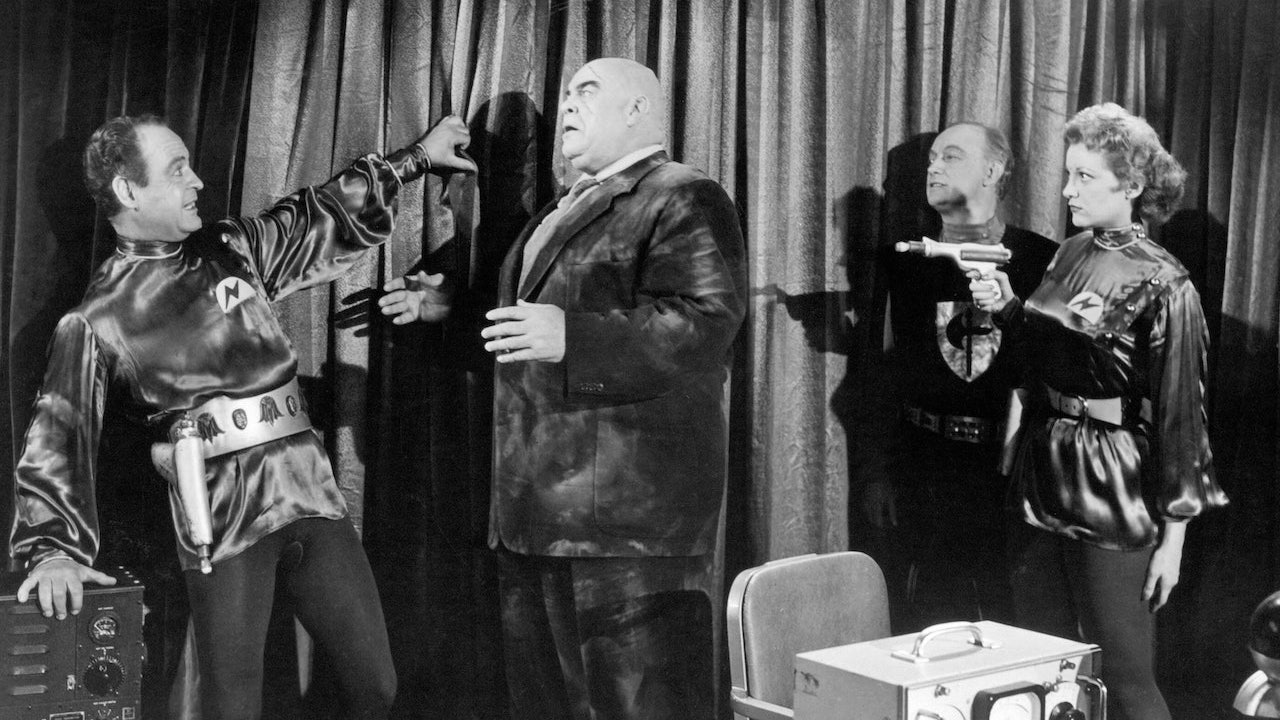 BAR TRASH started by screening low budget, independently produced movies, often made far away from the centres of film production by people with little or no experience of making films. Titles like THE ALIEN FACTOR (1978) and MALATESTA'S CARNIVAL OF BLOOD (1973) were packed with DIY, idiosyncratic solutions to the significant challenges of making and releasing a full-length feature film. I would often find myself quoting the words of V. Vale and Andrea Juno from their ground-breaking book and my life-bible, Incredibly Strange Films (1986), when introducing these movies:
"In the world of low-budget filmmaking, it is still possible for the imagination to reign supreme".

V. Vale & Andrea Juno, Incredibly Strange Films (1986)
For my second bar season, TRASH PLANET, I moved away from this brief to a degree by looking at the unruly 1970s eruption of eco-horror movies. The season surveyed a decade's worth of productions both big and small that exploited audiences' growing fears of the natural realm (or more importantly, how extremely we'd pissed off Mother Nature and how fiercely she was prepared to fight back…). Films like OCTAMAN (1971) and SQUIRM (1976) still sat in the realm of smaller indie productions, but NIGHT OF THE LEPUS (1972) and KINGDOM OF THE SPIDERS (1977) were evidently bigger-studio releases, despite their curious production choices.
For my third season, TRASH OR TREASURE?, I'm straying even further away from my roots to grapple with the idea of whether even thinking about films as 'good' or 'bad' is helpful, what I call the 'best/worst paradox'. In part, this is a direct response to Sight & Sound Magazine's ongoing season of the '100 Greatest Films of All Time' at BFI Southbank and IMAX. But it also harks back to the time when my love of alternative screen culture took root. As a teenage kid, I would often travel into London to spend my Saturdays browsing the bookstores on Charing Cross Road and the VHS ex-rental and retail stores – often with an adult section in the back – on Tottenham Court Road, before such businesses were demolished.
It was then that I discovered the book The Golden Turkey Awards, written by Harry and Michael Medved in 1980. Their writing served as my gateway drug to a lifetime spent drooling over outlier film titles and researching alternative screen culture. I didn't care at the time that the book was highly contentious, poorly researched and full of inaccuracies. I wasn't smart enough to question its supposedly satirical approach to punching up whilst simultaneously punching down. Nor did I even acknowledge that Harry Medved was 17 when he published his first book – The 50 Worst Films of All Time – and still just 19 when The Golden Turkey Awards was published. I've got nothing against precocious young talent, but it's certainly possible now to problematise their very partial analysis of "The Worst Achievements in Hollywood History".
My biggest objection is that there's an attitude of snark in their writing that I strongly disagreed with then and still do now. For (almost…) every time the Medved's used the word 'wretched' to dismiss a performance, special effect or an entire production or career, I wanted to replace it with the word 'wondrous. And it's that big-eyed expression, to borrow from Incredibly Strange Films again, that still "reigns supreme" in my approach to researching, watching and sharing these kinds of movies. It's why I stand on stage every week and proselytise about an alternative screen culture that still brings me "pure enjoyment and delight" (Incredibly Strange Films one final time…).
Where the Brothers Medved got it completely right is how films – of whatever perceived quality – can bring us together. After all, sitting with strangers in the dark to watch stories being projected on the wall is the very specific alchemy of cinema itself. But there is something peculiarly special about how overlooked, marginalised and derided titles can unlock our capacity to share:
"When fine films are discussed, most people sit quietly, nodding in agreement or scratching their heads. When the subject comes to the immortal turkeys, however, nearly everyone has a strong opinion and will come forward to express it with eloquent enthusiasm."

Harry & Michael Medved, The Golden Turkey Awards (1980)
Although I would never use the phrase "immortal turkeys", the idea of bringing people together to unleash their passion, is exactly what brought BAR TRASH to life and what I hope to conjure from the stage every week in my screenings. And there's evidence that it's working… I introduced a simple innovation for the TRASH OR TREASURE? season: audience review cards modelled on the original feedback cards I found online when researching CHRISTMAS EVIL (1980). These have proved to be a smash hit with almost everyone staying behind to fill one out after the screening of DAMNATION ALLEY (1977).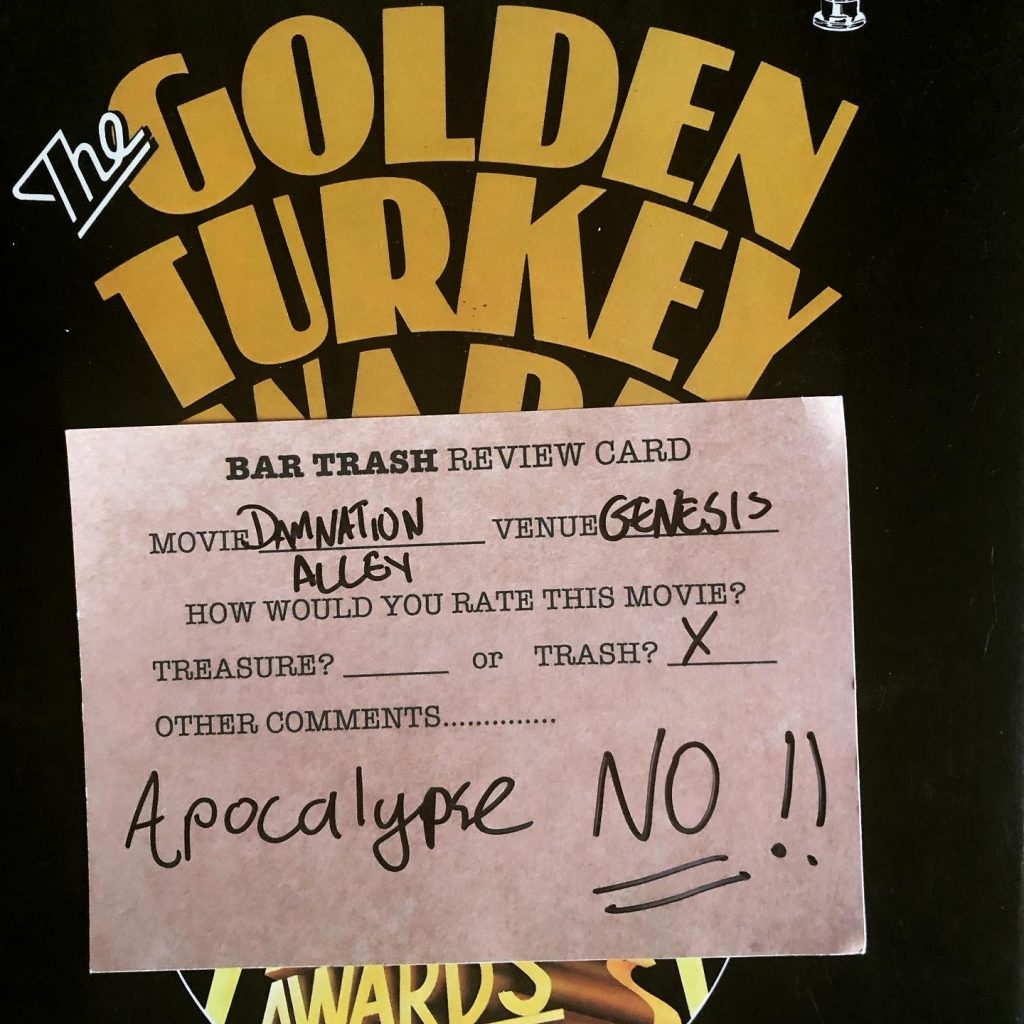 In some senses I (fondly…) regret calling my night BAR TRASH because it suggests to many that it's just more of the same snark, sneering and bullying that The Golden Turkey Awards – and their near contemporaries, The Golden Raspberry Awards aka The Razzies – amplified in the early 1980s. I stick to the collective noun because I see the BAR TRASH audience as an ever-expanding collective of true film fans and it's my job as host to get people talking. Screening nights can be unruly, but there isn't an account of the drive-ins or grind houses that doesn't stress their lewd and loud behaviour. Of course, I always want BAR TRASH to be a safe space, but so what if I fuck the quiz up after a couple of pints too many? It's not my expertise that matters…
There are barriers to inclusion. An upstairs (Genesis)/downstairs (Rule Zero) drinking venue won't suit everyone. But like the audience poll included in The Golden Turkey Awards, BAR TRASH is a space for everyone to come together to talk about their love of films. You don't need to be a lauded film critic or industry expert to have your voice heard and valued here. Indeed, I recognise that many audience members may have a passion far broader and deeper than mine and be keen to share it. This was never more true than when introducing Joan Crawford, star of TROG (1970), to an obviously queer/aware audience… or when being heckled about Bela Lugosi's death date!
As I explain at the start of every BAR TRASH night, the very first film we screened was producer Sam Katzman's CREATURE WITH THE ATOM BRAIN (1955). Katzman made millions for himself and his backers by producing hundreds of B-movies in the 1930s, 40s and 50s, but he had little respect for his audience; he actually called his films 'moron pictures'. And that's who we are. We're the people that other people look down on for liking these kinds of pictures. But knowing that these kind of people are also my kind of people is what makes BAR TRASH feel like home every single screening.
Whilst I don't agree with the term, TRASH OR TREASURE? is all about celebrating the open-hearted sense of community that 'bad' movie lists foster rather than reinforcing the ivory tower that 'best' movie lists seek to preserve.
See you there…? ??x