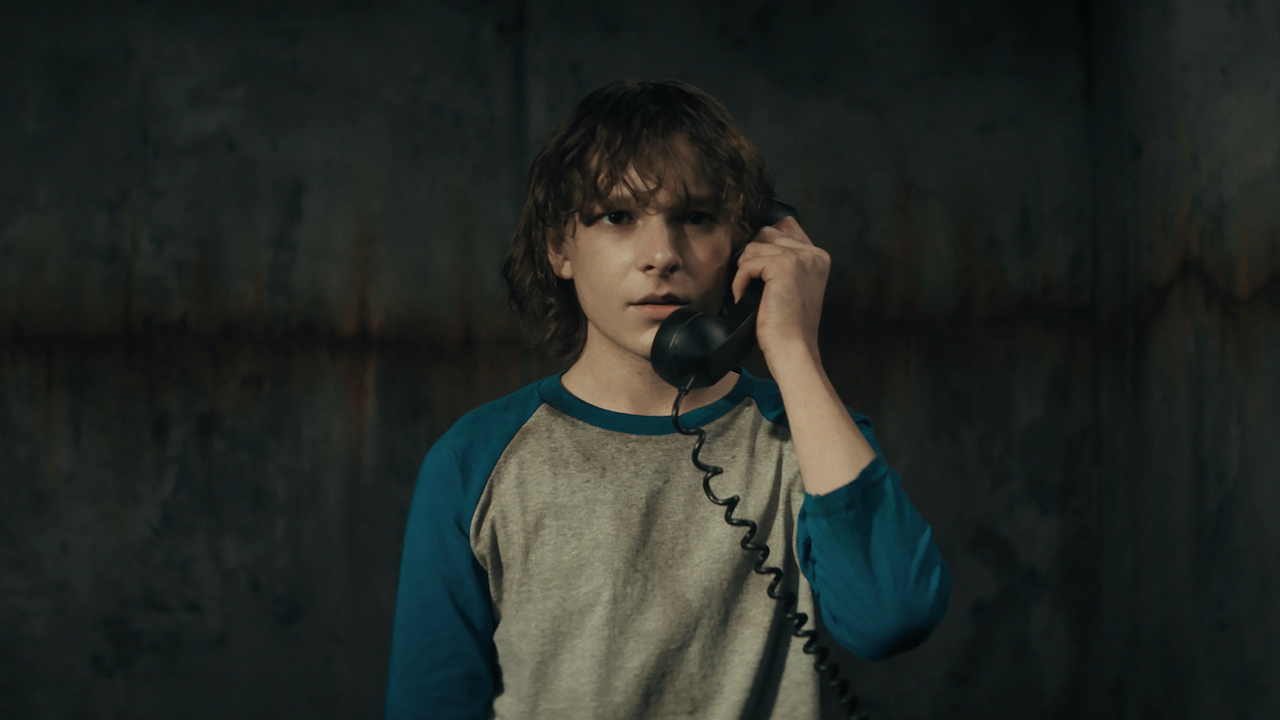 I really enjoyed THE BLACK PHONE, partly or maybe because of an enduring love (and current obsession…) I have for horror movies that could be revived on stage. Not that I think they should be moved to live performance – I'm reminded of a mid 90s encounter with MISERY when the audience's eyes followed a bouncing severed foot across stage as the plastic prop hit the floor a little too loudly – it's the aesthetic possibility I find interesting, as if the claustrophobic confines of a limited number of indoor sets somehow cements the nightmarish landscape of the piece. Other examples where this holds true include PONTYPOOL (2008) and David Cronenberg's THE FLY (1986) which did of course transform into an opera.*
The main action of Scott Derrickson's THE BLACK PHONE (2021) really takes place across two locations. The family home where sensitive 13yr old boy Finney (Mason Thames) and his younger shit-dealing psychic sister Gwen (Madeleine McGraw) must endure the abusive alcoholic terrors of their father Terrence (Jeremy Davies), and the basement of The Grabber (Ethan Hawke), the paedophile killer from whom Finney must try to escape after being snatched from the streets. The title, and much of the film's sense of theatre, comes from the fraternity of dead boys – The Grabber's previous victims – who are able to call Finney from beyond their shallow graves on a disconnected black phone in order to facilitate his escape from the basement.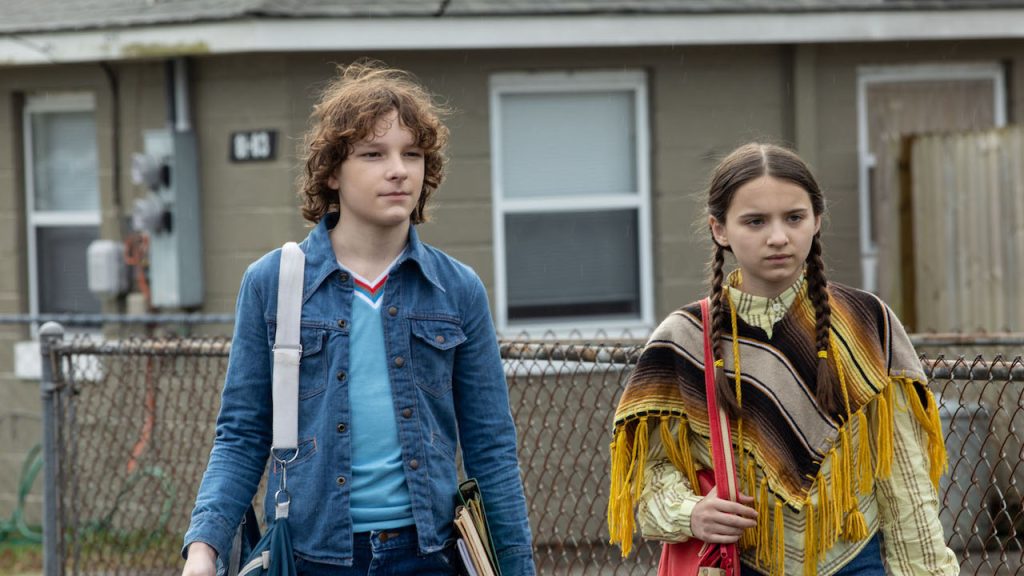 Hawke strays momentarily into fag-baiting territory – his restricted acting gets a little 'jazz handy' when fully masked, as if Hollywood still believes the best way to spot a threat to children is the perpetrator's 'swishy' demeanour… – and I found the comic relief from The Grabber's live-in brother Max (James Ransone) just a little too broad for the material. However, much of the rest of the film flies, driven by a sharp script co-written by the director and C. Robert Cargill based on Joe Hill's now must-read story, a hard edit by Frédéric Thoraval, and a strong score from Mark Korven. Whilst I'm not entirely sure the mask is as newly iconic as fans of its designer (and SFX legend…) Tom Savini would have us believe, significant credit goes to production designer Patti Podesta and cinematographer Brett Jutkiewicz for giving us such a strong (fish eye?) perspective on Finney's plight.
Having been let down by another family-King adaptation earlier in the year, the cast – particularly the damaged family at the heart of THE BLACK PHONE – make sure any and all of this matters. Jeremy Davies is terrifyingly dangerous as the broken widower who has entirely failed to take care of his brood. And whilst Mason Thames does an admittedly incredible job of carrying the entire movie – often standing defiantly alone as he prepares to do battle in the basement – it's his relationship with Madeleine McGraw that gives the film its tremendous heart. Her scenes of absolute terror at the hands of her father followed by volcanic outrage as she communes with an absent Jesus in her doll house are amongst the film's most memorable.
As author Joe Hill visibly transforms into his father (genetics making his escape from the family name a lot harder than a mere nom de plume…), there's much here that thrillingly reminds you of Rob Reiner's STAND BY ME. Try and see THE BLACK PHONE in a cinema if you can as its small scale really gets room to breath on the big screen… Admittedly, the UK release strategy does seem to be making that harder than it should be.
TOKEN HOMO x
*It's also a recommendation I'd make for PSYCHO IV: THE BEGINNING given the main strengths of that piece are CCH Pounder and Anthony Perkins' phone-in therapy sessions…