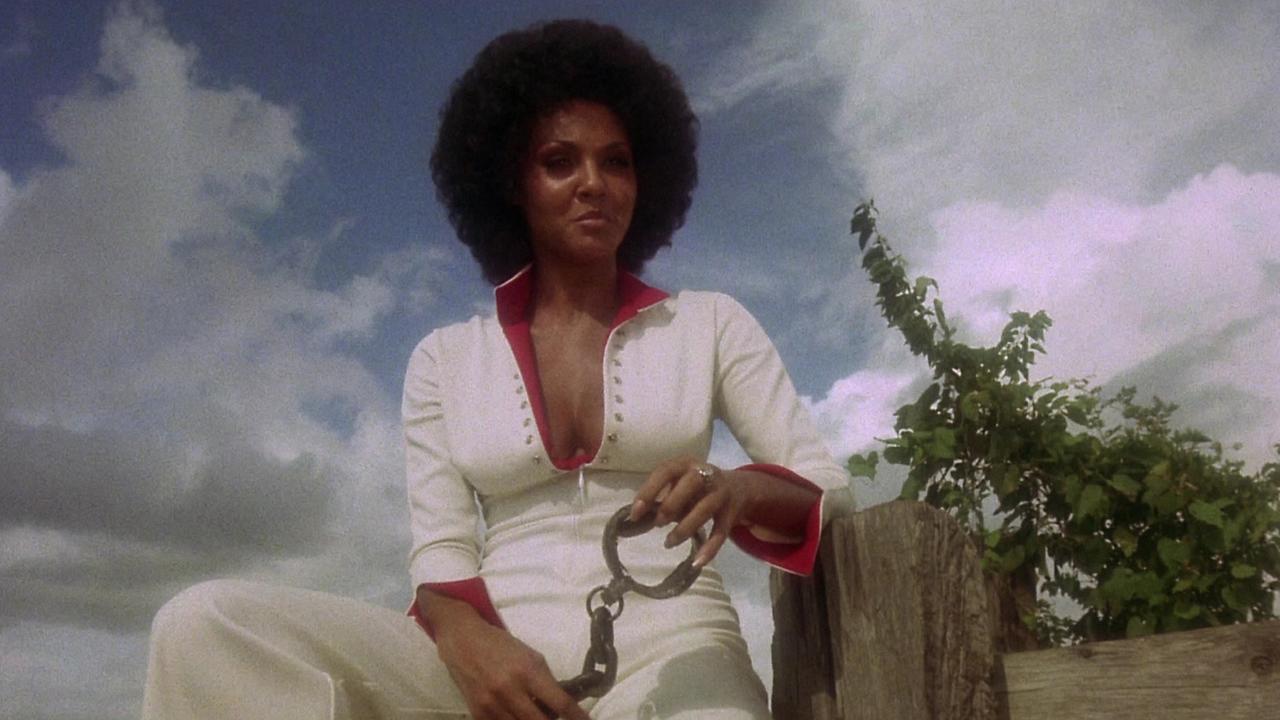 Had a blast watching Paul 'POLICE ACADEMY' Maslansky's one-and-done directorial effort SUGAR HILL (1974) at BFI Southbank as part of their epic IN DREAMS ARE MONSTERS horror season.
Screening from a suitably characterful 35mm print, SUGAR HILL is a moody blaxploitation title featuring Marki Bey as pant-suited avenger Diana aka Sugar Hill. With the help of Voodoo queen Mama Maitresse (the brilliantly charismatic Zara Cully), Sugar conjures Lord of the Dead, Baron Samedi (Don Pedro Colley), and his horde of silvery-eyed zombie hitmen to execute some thugs responsible for murdering her lover, Langston (Larry D. Johnson). Robert Quarry plays the racist gangland villain of the piece, Morgan, and Richard Lawson is Sugar's ex love interest, Valentine, a police detective charged with investigating the mysterious deaths.
The atmosphere and principal cast members are excellent with Tim Kelly's screenplay adopting a nicely mischievous approach to setting up the various executions (my favourite being dandy henchman Fabulous' (Charles Robinson) weekly visit to the massage parlour…). The looming appearances of the zombies are really effective and a welcome return to their cinematic origins, side-stepping Romero's gut-munchers. But overall it's more thriller than chiller, the kills lacking a more rewarding visceral payoff. This gets problematic by the time we see Sugar dispatch 'final thug' Morgan in a scene that just seems to sink…
Some of the slackness in the horror has to do with the film's modest commitment to special effects… Wounds and corpses are portrayed with pancake, mortician's wax and what looks like stage blood. Atmosphere is generated with the liberal use of a smoke machine and dime store cobwebs. And you should prepare yourself for one jaw-dropping sequence involving a severed chicken's foot. We're supposed to believe the murderous limb has been reanimated by the power of Voodoo… but clearly the production team had just tied some long-dead rooster's claw to a stick… Which is, of course, the kind of stuff I live for.
Blaxploitation cinema was largely invented to make money from Black urban audiences before the sub-genre found wider appeal at the American drive-in. Given contexts have changed, I would have loved an expert intro from the team at BFI Southbank to explore some of the more uncomfortable underpinnings of this title: a white-dominated film industry exploiting a Black audience; stereotypical portrayals of Black lives; mise-en-scène and narrative that appropriate images from slavery… What we did get from the BFI's always-brilliant screening notes was the following contemporary review:
"SUGAR HILL has a bit of an edge… by virtue of the fact that its vengeance is given a certain historical-political dimension. Morgan's gang, represented throughout as the arm of white exploitation and racism, is obliterated by the corpses of Black slaves in a dream of apocalypse out of Nat Turner."

Jonathan Rosenbaum (Monthly Film Bulletin)
Which is as potent a précis as you could possibly ask for.
TOKEN HOMO x