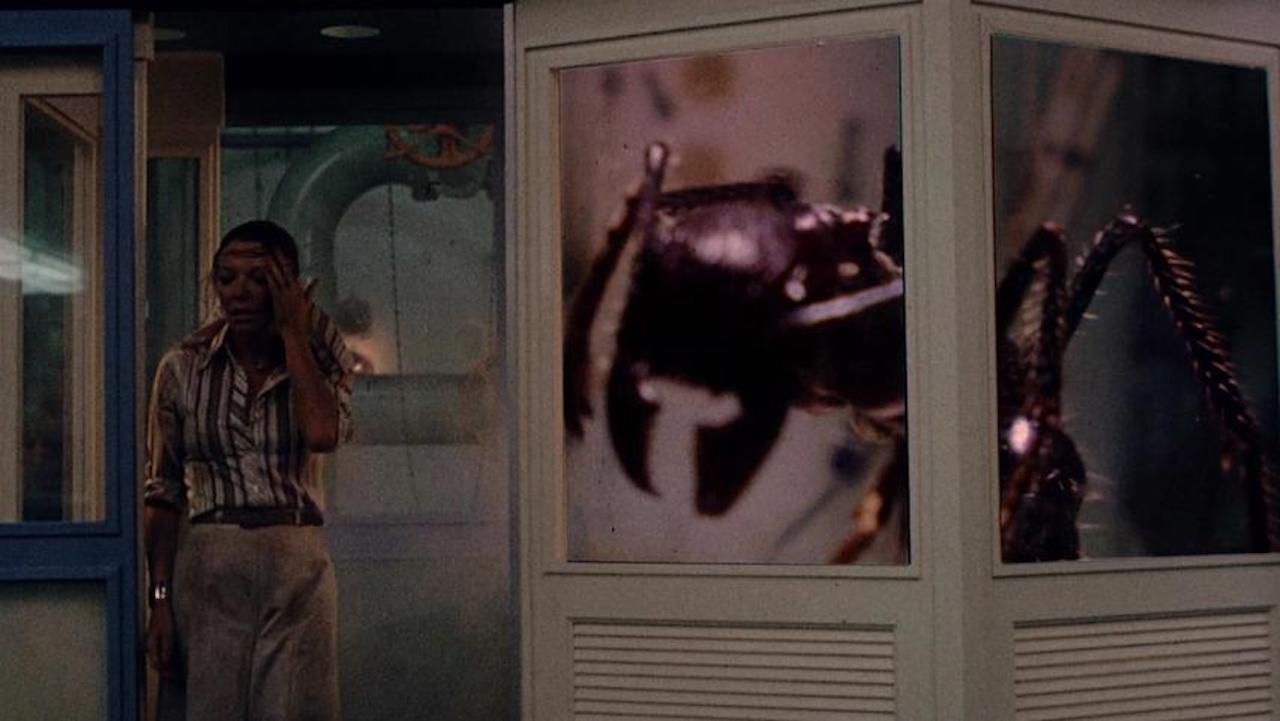 It's always great to pop into South London's The Cinema Museum and now indie exhibitor Lost Reels UK has started a new 16mm programme there, it'll be easy finding even more reasons to go.
Lost Reels aka Geoff Badger launched the programme with a pair of creature features, both projecting from canisters held in his personal collection: THE BEAST FROM 20000 FATHOMS (1953) and EMPIRE OF THE ANTS (1977).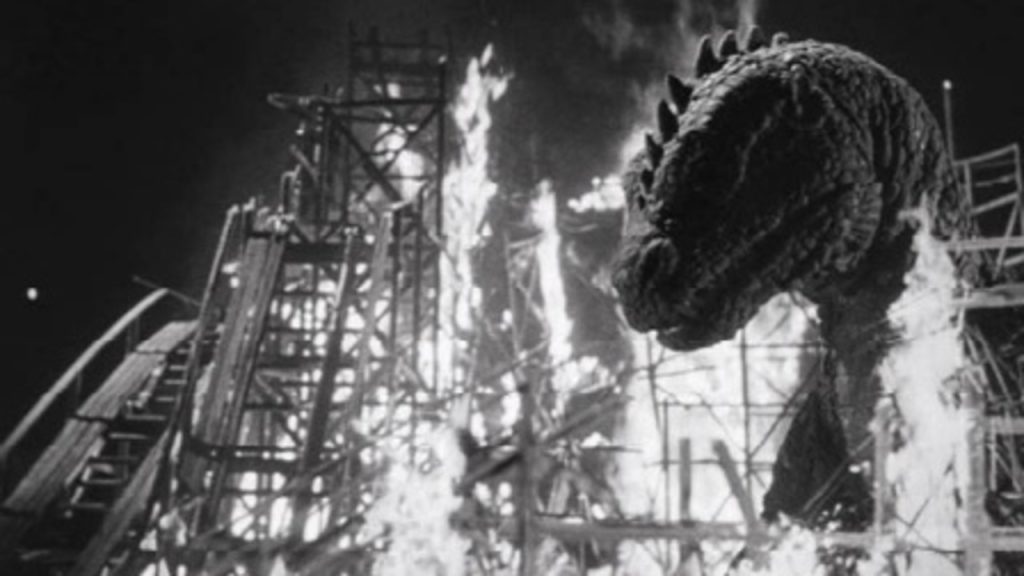 "THEY COULDN'T BELIEVE THEIR EYES! THEY COULDN'T ESCAPE THEIR TERROR! AND NEITHER WILL YOU!"
Released in 1953, THE BEAST FROM 20000 FATHOMS is a solid monster movie, preserved in history as the prototype for the American atomic anxiety features that were to follow. It also, of course, had a huge influence on GODZILLA (1954), but THE LOST WORLD (1925) and the rip-roaring commercial success of KING KONG (1933) also left ample footprints in both.
The film's most considerable asset is beautiful stop-motion animation by Ray Harryhausen, giving jaw-dropping movement to both the monster and the structures it destroys. His artistry in the film's standout action sequences – an attack on a lighthouse, the Rhedosaurus stomping down the urban canyons of New York, a fiery finale amidst the thrill-rides of Coney Island – has left indelible images, like the fall-out from the creature itself (an unsettling yet under-exploited plot twist). The moment when a swish of the monster's tail tosses a burning shack into the air literally made me gasp…
Of course, part of the attraction of this event was the chance to see much-loved movies projected from a 100-year-old film format. Geoff's print for THE BEAST FROM 20000 FATHOMS was great, strong monochrome contrast giving its scenes real depth and drama. Kudos to The Cinema Museum's resident projectionist Phil Clark for dealing with stubborn splices, whilst Geoff's enthusiasm for projecting the film using the same 24fps frame rate Harryhausen used to advance the action set the entire screening up perfectly.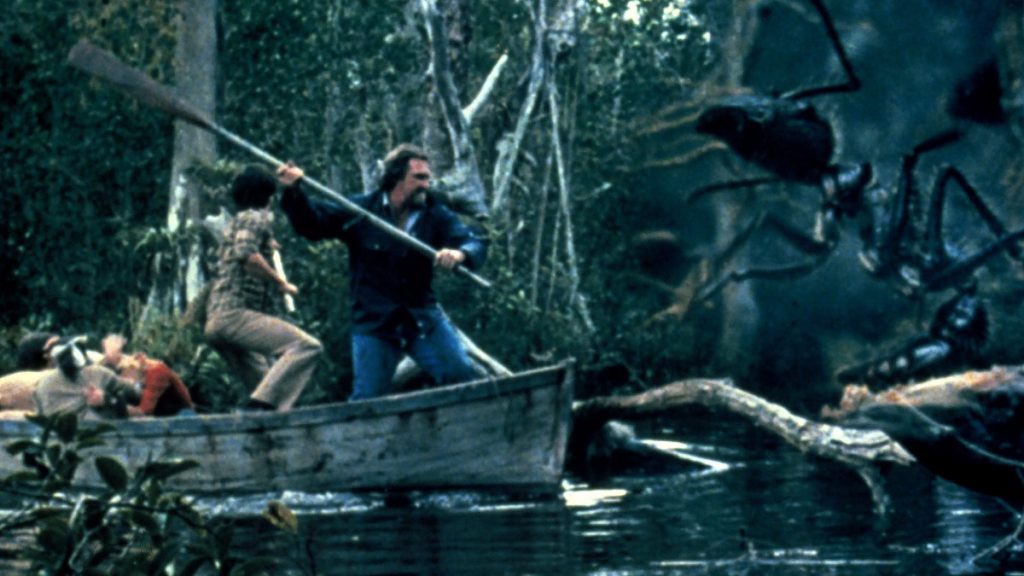 "FOR THEY SHALL INHERIT THE EARTH… SOONER THAN YOU THINK!"
EMPIRE OF THE ANTS is, of course, an entirely different affair (and a very different print): scrappier, less convincing and all-together suffering its advanced age (and I do mean both the film and the print…). Bert I. Gordon's much ridiculed film still scores points from several "what were they thinking?" moments of B-movie madness / low-budget filmmaking ingenuity, depending upon how you approach it.
Saturday night's audience loved the swarming ant reveal over the roof of the old folks' shack… but I also sat there grinning like an idiot at the 'compound eye' effect used for ant POV. And then there's the altogether unexpected (and I've seen it before…) leap into hard sci-fi come the final reel. EMPIRE OF THE ANTS played to a satisfied and entertained audience, and I reckon it deserves a stronger reputation for audacity alone. Sadly, Bert I. Gordon has always been written off as a bit of a loon. He only died this year at the tender age of 100. More should be done to memorialise his eccentric contribution to B.I.G. cinema.
Congratulations to Geoff/Lost Reels for convening this thrilling launch gathering. It was great to both see these two films and to experience them from 16mm prints in one of the few places that preserves the format's legacy and gives fans of film a home. Geoff has already announced two further events in this series, so give them your support if you can: a double-bill of FAIL SAFE (1964) AND JUGGERNAUT (1974) on 16 August, and FRANKENSTEIN AND THE MONSTER FROM HELL (1974) which includes a special conversation with cult actor Madeline Smith for Halloween on 22 October.
As to me…? I made it home, shut the door, turned off my phone and woke early to watch the full Eurovision final on catch up. I managed to avoid spoilers and didn't fast forward a single minute… which was all oddly thrilling. THx