Registrations have closed.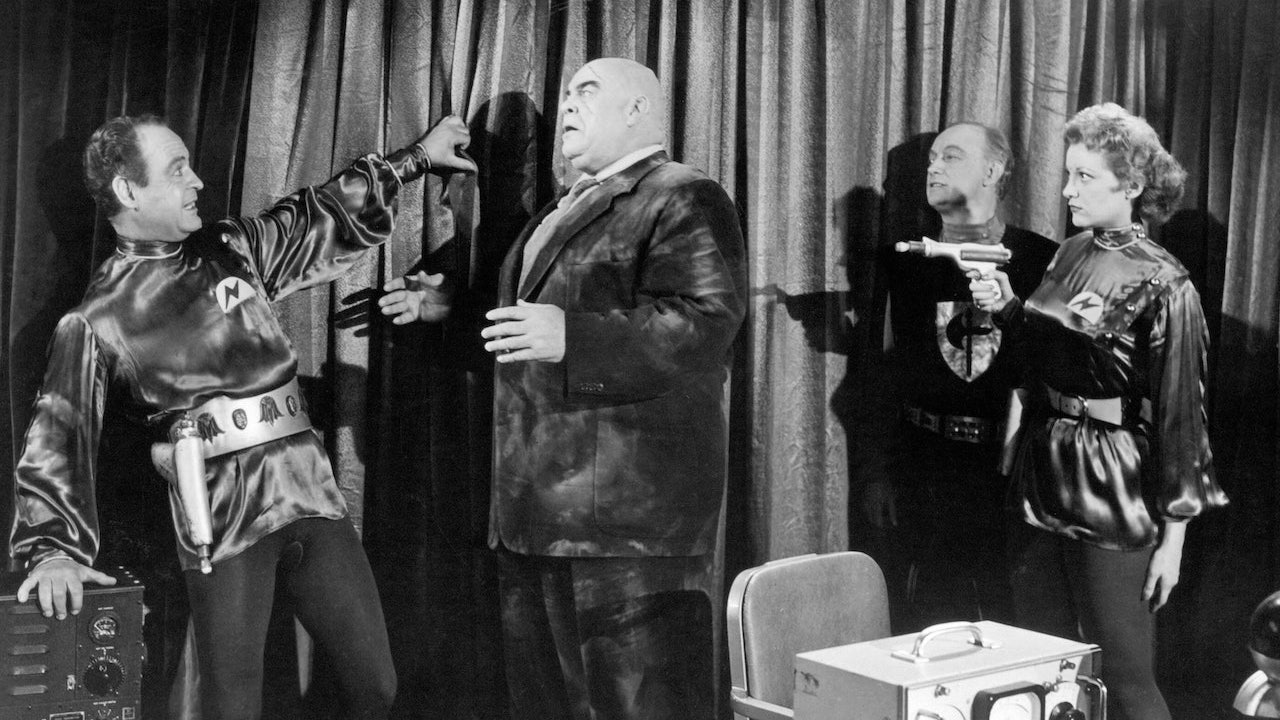 TRASH OR TREASURE? PLAN 9 FROM OUTER SPACE at Genesis Cinema (Weds 29 March 2023)!
142
142 people viewed this event.
PLAN 9 FROM OUTER SPACE: "UNSPEAKABLE HORRORS FROM OUTER SPACE PARALYSE THE LIVING AND RESURRECT THE DEAD!"
Directed by Edward D. Wood Jnr.
Starring Gregory Walcott, Tom Keene, Mona McKinnon
1957 | 79mins | USA | Event 18+
TRASH OR TREASURE? Resurrecting "The Worst Films of All Time"
For our TRASH OR TREASURE? season finale, BAR TRASH is stupidly proud to present…. "The Worst Film of All Time"!
Evil aliens attack Earth and set their terrible 'Plan 9' into action. As the aliens resurrect the dead of the Earth, the lives of the living are in danger.
Edward D. Wood Jnr.'s PLAN 9 FROM OUTER SPACE (1957) is a truly legendary title in the annals of 'bad' film appreciation. But it's fair to say, without the Brothers Medved catapulting the film back into notoriety in The Golden Turkey Awards (1980), film fans might have forgotten all about it. We certainly wouldn't have had the subsequent re-appraisal of the director's peculiar life and career, or the detailed recreation of this film's production in Tim Burton's caring homage, ED. WOOD (1994).
The Golden Turkey Awards namedEd. Wood "The Worst Director of All Time" and his PLAN 9 FROM OUTER SPACE (1957) came first in the readers' poll for "The Worst Film of All Time". For many, his films have become a benchmark for filmmaking ineptness with their supposedly 'terrible' acting, no-budget special effects and plot incredulity. But are they really that bad? As Jim Knipfel explains in his passionate defence of PLAN 9 for Den Of Geek:
"It was a singular, fast-paced, (intentionally) funny, crazy-assed sci fi/horror/conspiracy film driven by an eccentric and visionary man who wasn't in it for the money, but simply because he loved making films."

Jim Knipfel, Den Of Geek (2013)
See this low-budget sci-fi oddity and make up your own mind as Token Homo brings his TRASH OR TREASURE? season to a screaming climx. We'd love to know what you think, so fill in your 'trash or treasure' review card before you leave!
PLEASE NOTE: PLAN 9 will screen from the 2012 restored black & white version without subtitles.
BAR TRASH films are served with themed drinks, introductions, intermissions, prize giveaways and subtitles (where possible!). Tickets from £3. BOOKING NOW!