A QUEER HORROR SPACE… where watching badly behaved movies is a ritual of rebellion (1).
TOKEN HOMO seeks out the cathartic chaos of horror cinema, from big-studio productions to the 'mess, muscle & wonder' of the exploitation independents.
With a lingering eye for the overlooked & under-appreciated, TOKEN HOMO is cruising the darkness to create a compendium of unruly fears & fantasies:
LATE NIGHT DOWNLOADS
Today's streaming services provide ample access to unsettling content. TOKEN HOMO is compiling online encounters with all kind of horror, starting with THE COMPLETE DAVID DECOTEAU project.
& COMING SOON…
MIXTAPES
It's no fun on your own…! Get ready to submit your own unnatural encounters as TOKEN HOMO crowdsources a community compendium of horror cinema's queerer crevices (& more…).
DARK ROOMS

Horror cinema is always best enjoyed in dark rooms with strangers… Watch out for horror hookups as well as regular film nights for all queer horror fans & our friends in London.
Follow @tokenhomo on Instagram for news & updates.
ABOUT TOKEN HOMO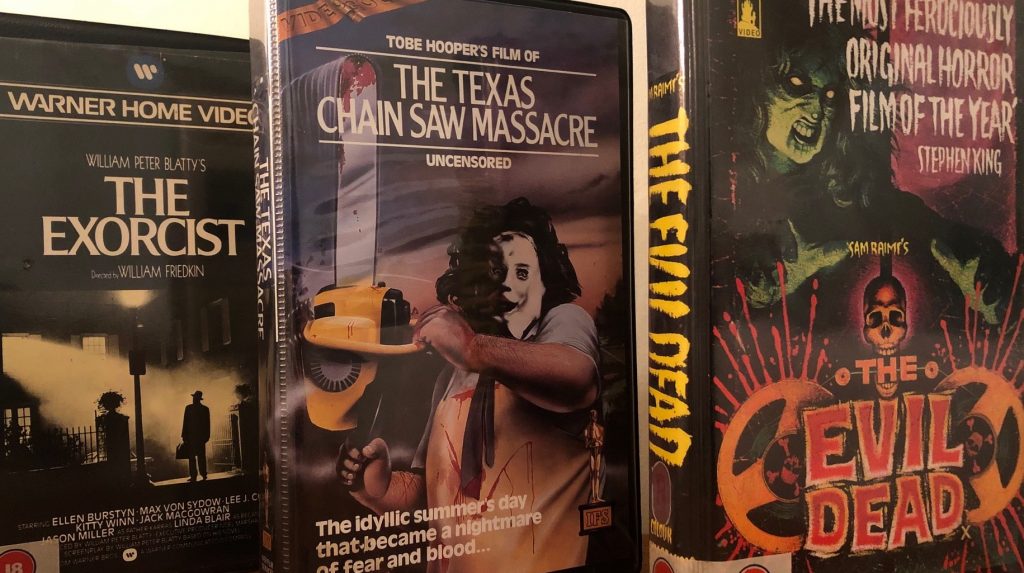 Horror films made me queer. Well, not quite… but they helped! My love affair with the genre cemented young with an illicit purchase of 3 classics from a VHS rental library fire sale – EXORCIST, TEXAS CHAIN SAW & EVIL DEAD. Before then it had all been about giant apes & invasive seed pods.…
Still theoretically too young to see the movie (thanks ACE Cinema!), I came out to my teenage friends following an appointment with Chuck Russell's ELM STREET 3 (1987). Film's most impolite of genres has shaped my sense of what's queer & transgressive ever since. TOKEN HOMO continues that journey…
My blogging dark half was inspired by queer auteur David DeCoteau's background in Hollywood's exploitation industry:
"I was sort of the 'token homo' in the business, & most of the day I'd be filming naked women & crashing cars" (3).
It reminds me of the solitary queers seen on horror screens & that moment when you feel like the only – impolite! – queer in the audience…
CREDITS
TOKEN HOMO is indebted to: Blossom Lefcourt for explaining how watching films we're not supposed to constitutes an act of personal rebellion (1); Boyd McDonald's "unabashedly sexual & unapologetically political" film fandom (4); and, Kim Newman's completist urge for the under-appreciated (5)
"TITTY-LATION: On 'Double Agent 73'" by Blossom Lefcourt in "The Films Of Doris Wishman" edited by Peggy Awesh (2019).
Bruce Hainley quoted in "Cruising The Movies: A Sexual Guide To Oldies On TV", Boyd McDonald (1985/2015).
David DeCoteau quoted in "Meet David DeCoteau, the King of Homoerotic On Demand Schlock" by Will Sloan, Flavorwire.com, 28 OCT 2014.
William E. Jones writing in "Cruising The Movies: A Sexual Guide To Oldies On TV", Boyd McDonald (1985/2015).
"Video Dungeon: The Collected Reviews", Kim Newman (2017).
---
TOKEN HOMO is a RADIANT CIRCUS sideshow project.
---
Featured Image: IMMORTAL KISS: QUEEN OF THE NIGHT (2012).