Registrations have closed.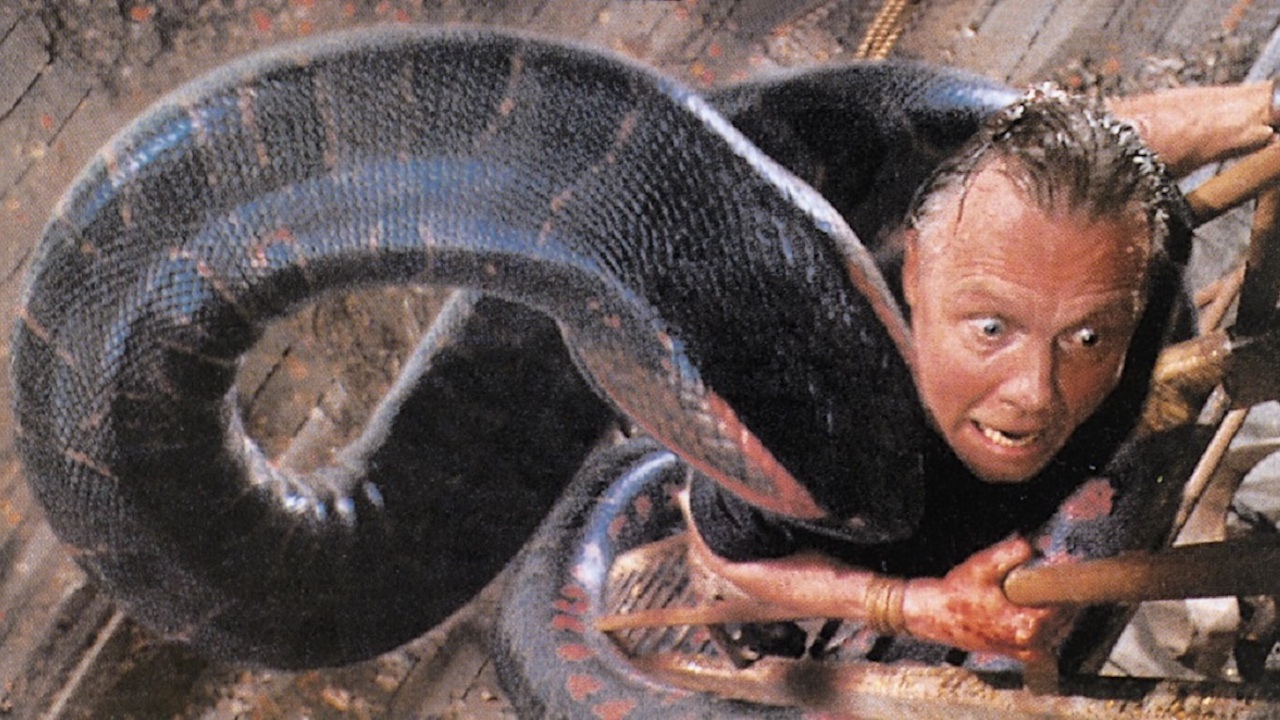 TRASH PLANET 2 – ANACONDA at Genesis Cinema (Weds 06 Dec 2023)!
51
51 people viewed this event.
Director: Luis Llosa
Producers: Verna Harrah, Carole Little, Beau Marks, Leonard Rabinowitz
Cast: Jennifer Lopez, Ice Cube, Jon Voight, Eric Stoltz, Jonathan Hyde, Owen Wilson
1997 | Film: 89mins | USA, Brazil & Peru | Event: 20:45 – 23:00 [18+]
"WHEN YOU CAN'T BREATHE. YOU CAN'T SCREAM."
A nature documentary film crew is taken hostage by an insane hunter who makes them join his quest to capture the world's largest – and deadliest! – snake.
Join me for the final Bar Trash of 2023! Together, we'll celebrate the end of my season of ten eco-horror films, TRASH PLANET 2, and savour what is widely regarded as one of "The 100 Most Enjoyably Bad Movies Ever Made" (John Wilson, The Official Razzie Movie Guide).
Washed away on a flood of negative reviews and liquid CGI, ANACONDA's bawdy reputation belies significant box office success that led to four sequels – one for the cinema, ANACONDA: THE HUNT FOR THE BLACK ORCHID (2004), and three made-for-TV titles, ANACONDA 3: OFFSPRING (2008), ANACONDAS: TRAIL OF BLOOD (2009), and LAKE PLACID VS. ANACONDA (2015).
The seemingly stellar cast frequently out-performs the material and each other… Whilst Jennifer Lopez was nominated for a respected Saturn Award for 'Best Actress', Jon Voight was nominated for 'Worst Actor' in both the Golden Raspberry and Stinkers Bad Movie awards. What's more, the animatronic snake (and presumably its CGI alter-ego?) was nominated as 'Worst New Star' at the Razzies, and both the snake and Voight were nominated for the 'Worst Screen Combo' at the same event (beaten by Dennis Rodman and Jean-Claude Van Damme for DOUBLE TEAM…).
If we survive all of this… I'll preview what's coming up in my 6th sensational season of Bar Trash – VHS USA (Jan to March 2024) – at the end of the show.
Bar Trash is a celebration of cult and curious cinema, hosted by queer film fanatic, Token Homo. Films served with themed drinks, introductions, intermissions, prize giveaways, and subtitles/captions (where possible). Tickets £3.