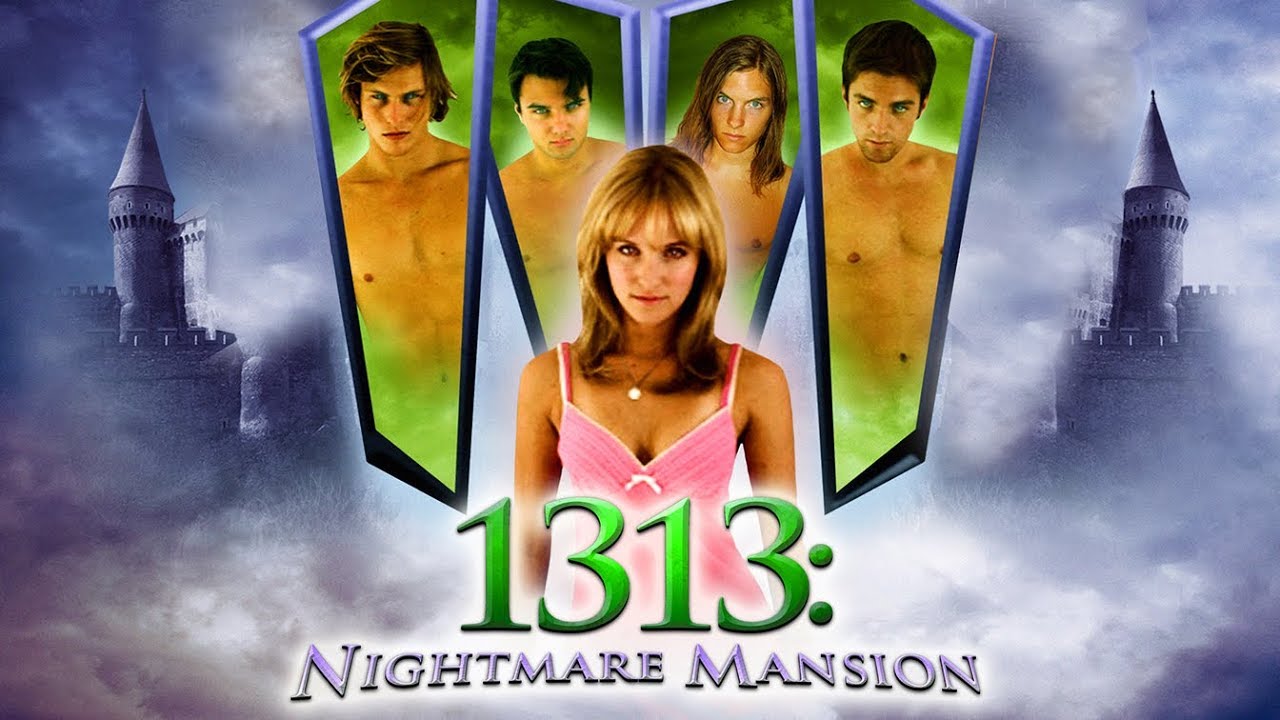 The mothership… 1313: NIGHTMARE MANSION is where the series set in the modern Malibu cliff-top property – David DeCoteau's self-styled "address of terror" – all started. It's a neat little affair, but you wouldn't guess it would kickstart a 14-strong film franchise, even if all of those films were, somewhat incredibly, released over a two year period.
DeCoteau – "the director, producer and all-around slave boy" on this franchise – explains in the DVD commentary that it was "a fever dream one morning… more like a fever nightmare…" that spawned the franchise. Overwhelmed by images of a "Calvin Klein cologne commercial…. guys in underwear, a supernatural, crazy, insane story…" DeCoteau promptly picked up the phone and called screenwriter Moses Rutegar. Despite this being the sprawling franchise's rude awakening, it didn't limit DeCoteau's creativity, unleashing a total of 20 features in 2011/12 alone. This extensive slate includes such varied fare as CHRISTMAS SPIRIT (2011), 2: VOODOO ACADEMY (2012), and, under the guise of his regular pseudonym Mary Crawford, THE GREAT HALLOWEEN PUPPY ADVENTURE (2012).
Unlike others in the series, NIGHTMARE MANSION has decent character and avoids – or more accurately, delays – some of the padding that drugs later editions. You actually get the sense of something being created rather than churned out here. DeCoteau even boasts sweetly on the commentary about how his lighting and colour coding were attempts to ape the legendary Dario Argento (not quite David…). On the same chat track, he also talks about his 'micro dolly', a tool that reduces the need for extra crew and allows the camera to glide gracefully over the mansion's marble floors in pursuit of the underclad cast. This DIY shooting style introduces scope for error – such as an entirely accidental shooting star and the many Speedo/rig reflections in the signature shower scene – but also polishes the film's veneer. Despite being shot in three days (DeCoteau normally prefers four…), the appropriately episodic run time feels right, reminding us that he can direct – a fact that gets a little lost in the cotton-clad conveyor belt that follows.
The film is helped along by its eye-candy cast, particularly Stephan White as Saddler (aka Satan Jnr.), who communicates a queer malevolence as the reaper of souls. The plot involves Saddler inviting a series of twinks to a party so he can abduct them into a strange secondary world where their clothes disappear and their sins are harvested, all so that he can deal with his missing mommy issues. Given DeCoteau's hands-on casting, all of the assembled sinners give good (enough) 'twink in headlights', including Myles Tufts who was apparently auditioned in a late night donut shop. In a strike for equality, there's even a female victim (Sara Fletcher), who remains dressed in far more than any of the guys.
Overall, it's a steamier than usual affair, putting paid to criticisms that DeCoteau's twinks are always self-laceratingly asexual. In addition to DeCoteau's usual "celebration of the male form", we get a kinky kiss of a knife blade, a closeted guy finally strokes same-sex skin, and a bewitched hetero couple make-out in the pool as Saddler strokes himself on the sun lounger (not a euphemism…), before joining in.
Once the story is done, we get to enjoy the extra padding with scenes that were originally intended to be earlier in the movie. There's a shower scene (from future SURVIVOR winner, Jud Birza) and a bedtime masturbatory fantasy that draws on DeCoteau's early career porn skillset ("This is Cody [Matthew Blymire] going for it. God bless him."). Of course, by saving the padding to the end, NIGHTMARE MANSION reminds you that for much of the 1313 franchise, padding becomes the entire movie.
1313: NIGHTMARE MANSION is an enjoyable if protein/plasma-light straight-to-streaming horror flick. Step over the threshold of its charms and let the delirium of the entire cast appearing in only their undies take hold. The minimalist wardrobe kinda makes sense in this context and the hand drawn artwork in the party invitations given to each of the victims adds a nice tactile dimension to the myth-making. In a masterstroke of accidental mise-en-scène, the tipped-over alter candles by the poolside – each one representing a sinner's soul – convey something far more sexually sinister than anything in the rest of the series.
A TOKEN HOMO favourite and an early hole of fame entry.
[I'll tackle the DVD boxcover's strapline A Supernatural Thriller For Girls! in a future sidebar… but the addition of some punctation around the word "Girls" just about fixes it.]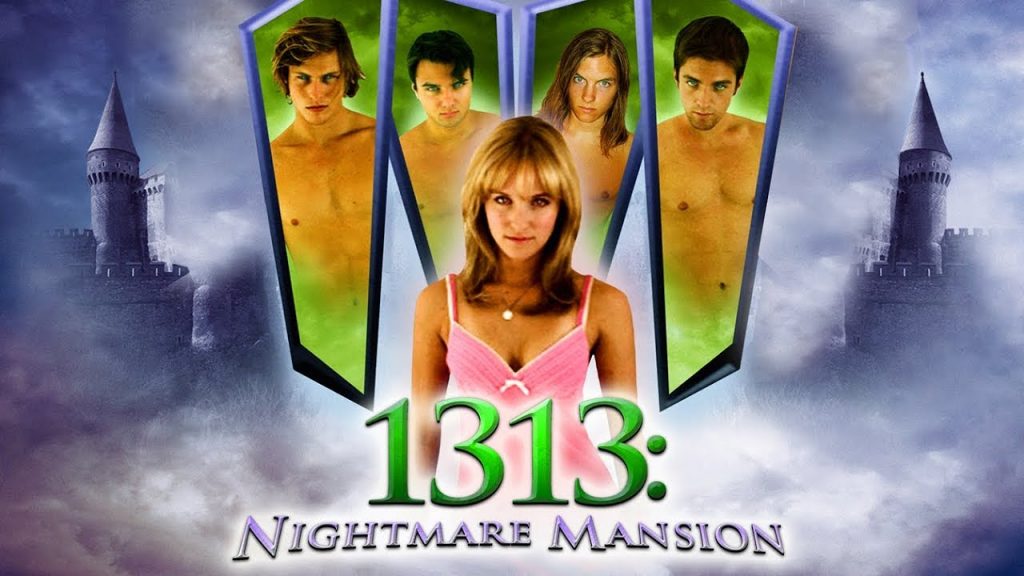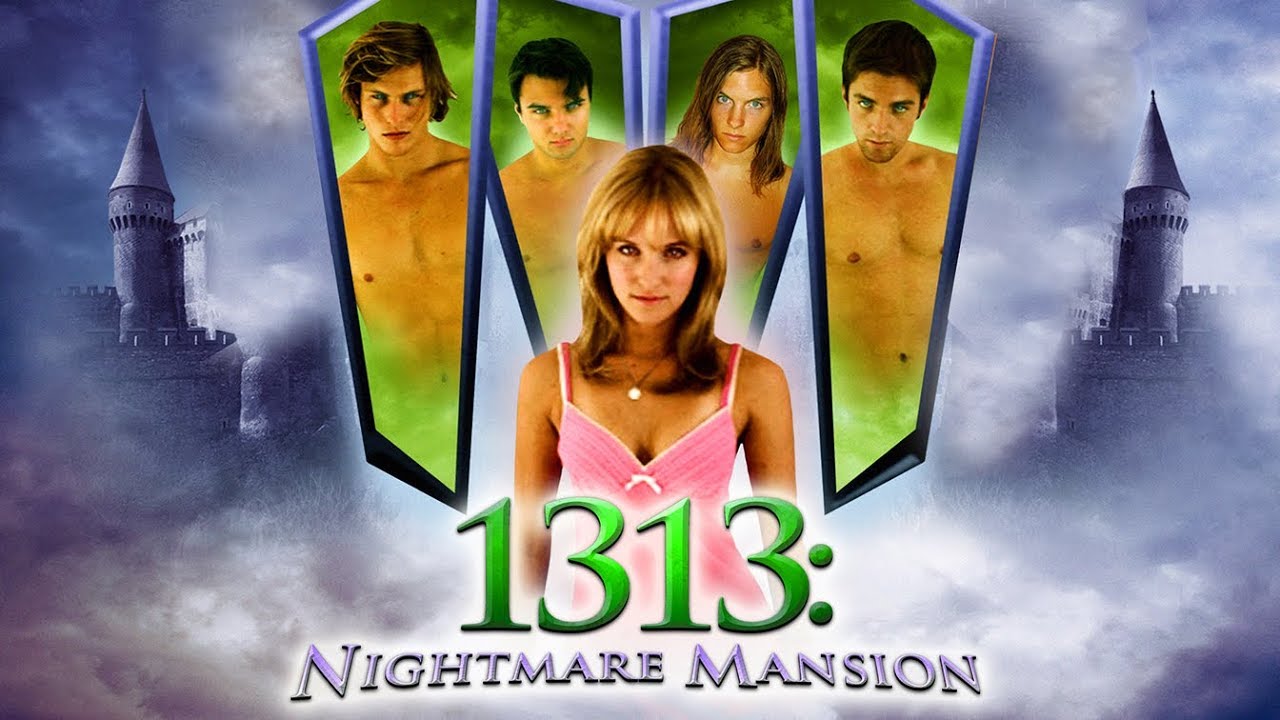 IN BRIEF: Satan's love child harvests other twinks' sins in an attempt to get his mommy back.
IN BRIEFS: 5 out of 5. The motherload. An arousing inaugural entry in the 1313 franchise.
CAST NOTES
Prone to losing garments, Cody Matthew Blymire went on to play 'GoGo Boy' in Caytha Jentis' queer comedy THE ONE (2011). Jud Birza reappears in MY STEPBROTHER IS A VAMPIRE!?! (DeCoteau as Mary Crawford again, 2013) and then 90210 SHARK ATTACK (2014, also DeCoteau). Mak DeGennero appears in the title – if not film! – of our times, Craig Edwards & Samuel Morris' FAKE NEWS (2017). Sarah Fletcher gives good TV for much of her career before appearing in something that sounds like a DeCoteau/Mary Crawford vehicle, but actually isn't… PAWPARAZZI (by Ari Novak, 2018).
Moses Rutegar gets the screenplay credit.
Watched late on DVD, 26 MAY 2019 .