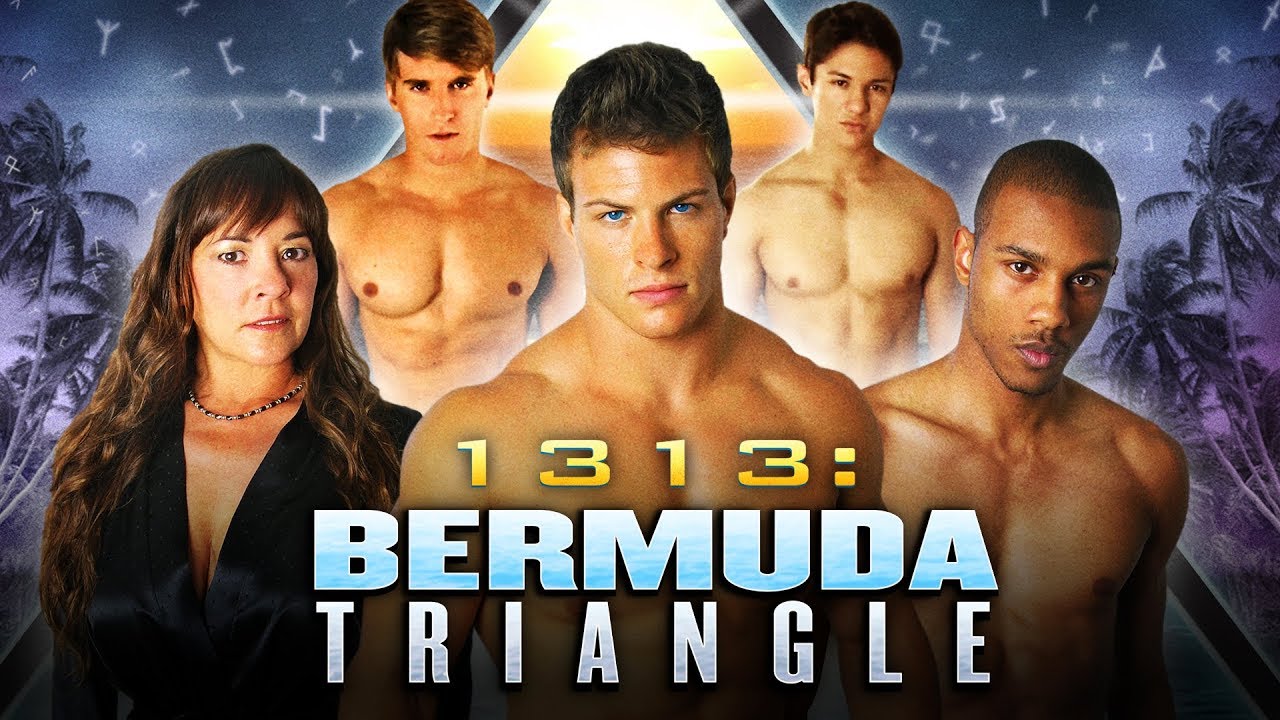 The third film in the 1313 "unexplained phenomena" trilogy. Treasure hunter cum murderer, wannabe reality TV star and perpetual dickwad, Sean (Stefan Gatt), recruits a cohort of youthful scientific "experts" to join him on an adventure in the Caribbean (although the majority of the film is still shot in the titular Malibu mansion).
The company also includes one of David DeCoteau's several serial muses, Michelle Bauer, who makes an appearance here as Echo, island blogger and investigative reporter extraordinaire ("I deal with facts not theories"). Promised an 'access all experts' exclusive on Sean's find of the century, she helps unravel his criminal backstory but, overcome by his general assholery, misses the real scoop and skidaddles before we discover what's really going on…
"I couldn't help noticing that all of Sean's experts are…"
"…Young? Yeah, we're cheap too."
The setup is full of the soft core traditions familiar to fans of the 1313 series, with 'DeCoteau's Boys' serially arriving for duty in their board shorts before stripping down for a playfully seductive swim scene or two. The twinks here give good Esther Williams, cavorting gaily in the sparkling waters of the Malibu mansion pool, their splashing gently underscored by Harry Manfredini's elevator electronica (the same porny muzak gets rinsed and reused elsewhere in the series whenever the 1313 underwear gets wet). For admirers of musclemass, protein-friendly Sean takes a tasteful shower, revealing the kind of abs you are forced to imagine running your tongue over.
Throughout, Sean's barely dressed team members utter their scripted pseudo science with varying degrees of plausibility, but their expert credentials are the least of his concerns… The geek squad has been infiltrated by an unscrupulous Atlantis hunter (Tom, Scott Jordan) and a time travelling agent of the lost city (Clay, Kip Canyon) who is hellbent on seeking revenge for stolen artefacts.
As this is a 1313 movie, 'revenge' is enacted by means of kinkily stripping and strapping the twinks to various items of gym equipment – as well as bedposts, bannisters and showerheads – before 'experimenting' on them with in-camera lighting FX (and occasional flashes of post-production whimsy).
"Sacrifice is necessary to advance."
The jaunty music, attractive location shots, and torture-porn-lite burlesque routines make this one stand out from the 1313 crowd, as does the more varied than usual smorgasbord of talent. We get musclebound Sean (Gatt went on to play a character called The Hulk in his next/last film, FUN SIZE), a skinny twink (Joshua Blake Shiver, playing himself), an acned jock (David Baracskai, now Meza, sans acne) and black Jamel King (playing doomed local fixer, Francisco).
Just as the unexpected ending sucks wind from the plot's sails with a sudden, revisionist explanation of the Bermuda Triangle, so DeCoteau rewards us with extra run time via some classic exploitation 'padding'; an(other) anonymous washboard twink enters the mansion only to get zapped and tied to the showerhead… Extreme low angle shots of his writhing, clenching buttocks serve to perpetuate the eternal mystery.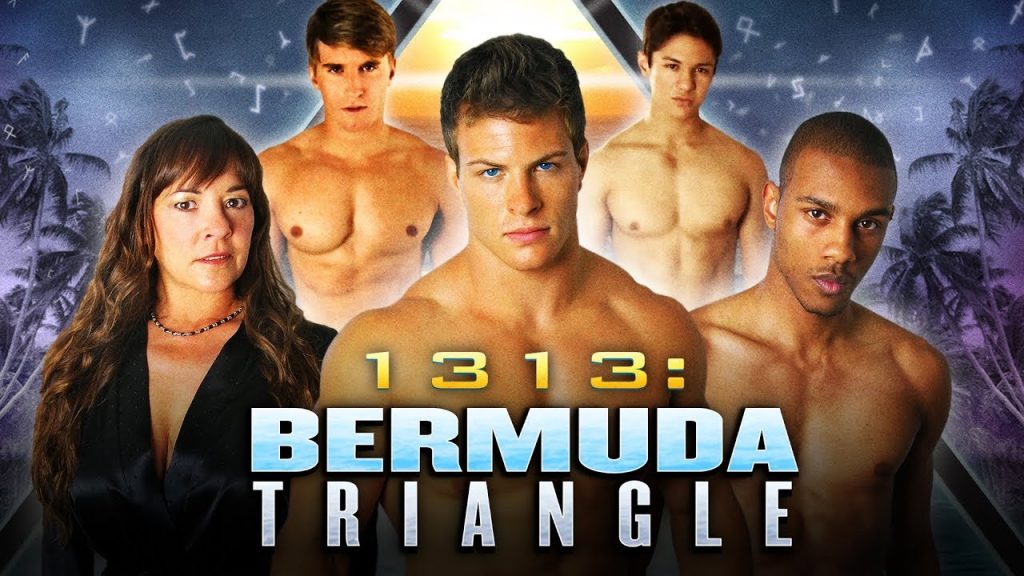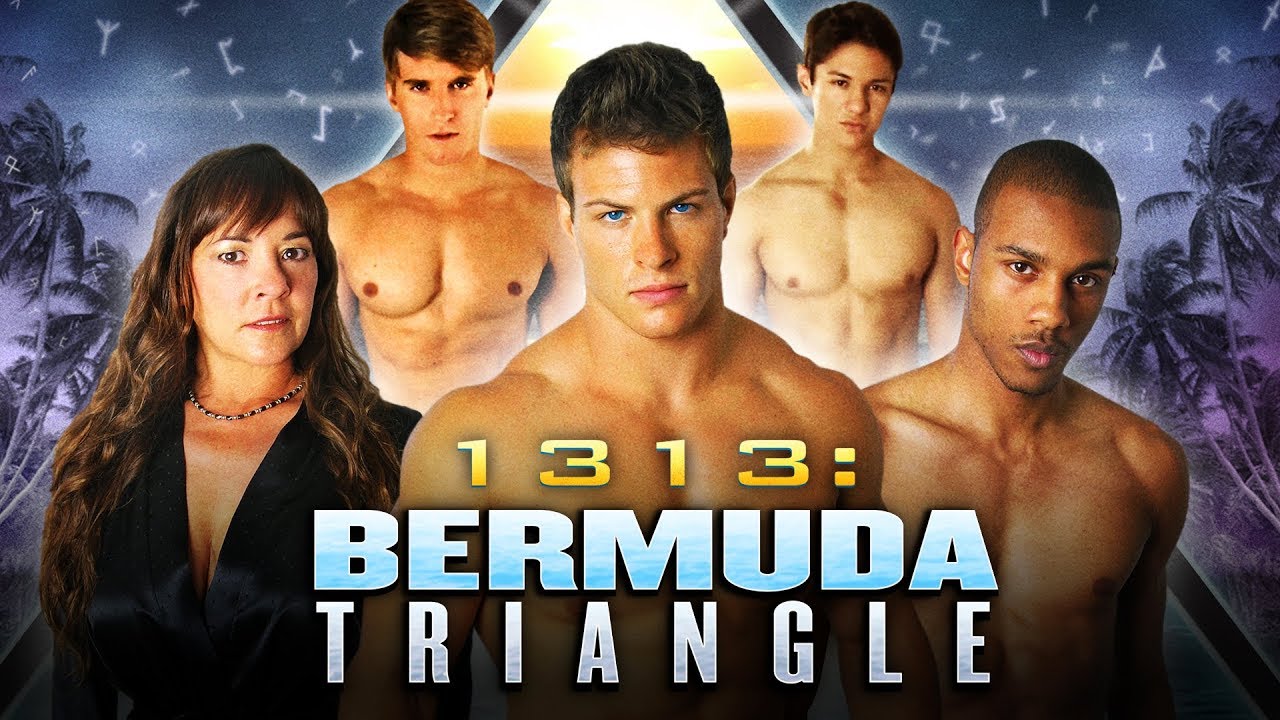 IN BRIEF: A treasure hunter's hubris is punished by a fishy menace from beyond the 4th dimension.
IN BRIEFS: 4 out of 5. Plenty of underwear work here as DeCoteau's Boys get tied up and 'tortured' for our pleasure.
CAST NOTES
Michelle Bauer has a long and distinguished exploitation career, with plenty of previous DeCoteau, including: 3 SCREAM QUEENS (2014); 2: VOODOO ACADEMY (2012); 1313: COUGAR CULT (2012); 1313: ACTOR SLASH MODEL (2011); PUPPET MASTER III: TOULON'S REVENGE (1991); DR ALIEN (1989); MURDER WEAPON (1989); NIGHTMARE SISTERS (1988); and, SORORITY BABES IN THE SLIMEBALL BOWL-O-RAMA (1988). She also appears in equally prolific Fred Olen Ray's extensive filmography e.g. ATTACK OF THE 60 FOOT CENTREFOLD (1995) and HOLLYWOOD CHAINSAW HOOKERS (1988).
Stefan Gatt went on to appear in Josh Schwartz's FUN SIZE (also 2012) before disappearing from IMDb. Jamel King has made a minor career in DeCoteau's latest franchise, the WRONG series: THE WRONG FRIEND (2018); THE WRONG STUDENT (2017); THE WRONG CHILD (2016); THE WRONG ROOMMATE (2016). David Baracskai also reappears in THE WRONG ROOMMATE (2016) whilst Kip Canyon appears in BADASS SHOWDOWN (2013) as well as hopping franchises to appear in Charles Band's PUPPET MASTER X: AXIS RISING (2012) and PUPPET MASTER: AXIS TERMINATION (2017).
Streamed late on Prime Video, 03 DEC 2018 .