A GIRL WALKS HOME ALONE AT NIGHT (2014): Screening notes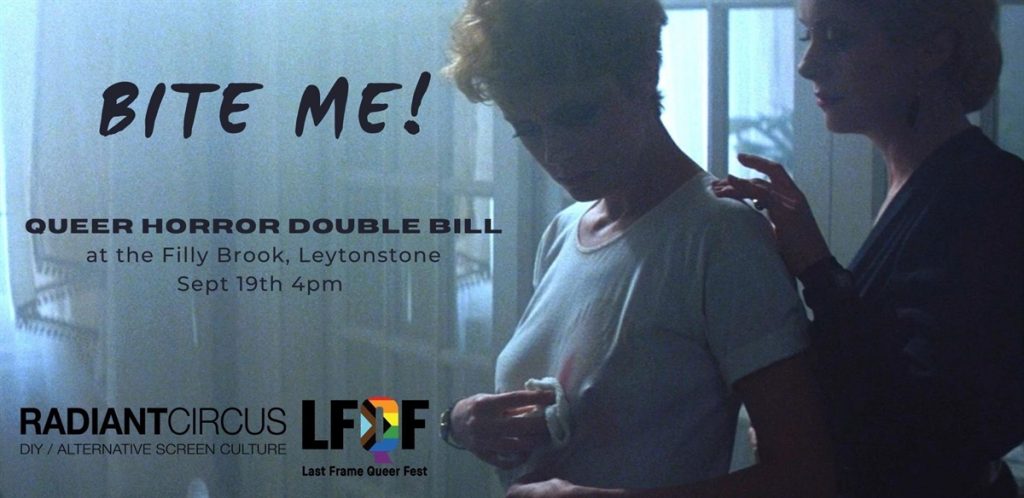 A GIRL WALKS HOME ALONE AT NIGHT
Made in 2014
Running time: 1hr 41min
Directed by Ana Lily Amirpour
Black & white
In Persian with English subtitles
Factoids
Adapted from a short film with the same title and part-funded through Indiegogo, premiered at the Sundance Film Festival in 2014. There's also a 6-part graphic novel which is a medium the director loves.
Sheila Vand plays The Girl and Arash Marandi plays Arash (who also appears in another excellent Persian language horror, UNDER THE SHADOW, if you get bitten by the bug).
The director also appears in the film as Skeleton Partygirl and as the skateboarding version of our vamp.
Key things
We're obviously showing it because we love it and it's a good counterpoint to THE HUNGER.
Another female vampire but the filmmaker rejects feminist readings of the film, preferring to "ask questions rather than provide the solutions".
As such it's a film that asks questions about liberty and freedom.
We have that title… a powerful declaration of personal freedom.
We have that place… shot in Southern California, but set in a fictitious Iranian location – Bad City – but we only ever see the suburbs. It's a ghostly place. Some great atrocity has occurred: we see the piled-up bodies in mass graves but it's never explained or event mentioned.
We have the chador… in fact, we get two versions of the vampire's classic black cape, both costumes of sorts. We get the dressing up box version of Dracula worn by Arash AND (in a perfectly surreal late night encounter) we get the traditional Muslim garment, the chador worn by The Girl. The chador is a giant circle of fabric that covers the wearer – a woman – head to toe… Is this a symbol of religious oppression or a sign of the wearer's personal power? Is the chador her disguise or her armour?
Warning against putting too much into your reading of the film, Amirpour says this: "If there's one political thing [in the movie], it's not the chador, it's Rockabilly, because it's not okay to be gay in Iran."
Rockabilly is a silent observer we see a handful of times in the movie, a character who could be read as trans but has been described by Amirpour as a "gay man in drag". In the book Women Make Horror, Lindsey Decker describes Rockabilly's surreal dance with a ballon as "a moment of unpoliced gay joy".
It's a hybrid film – is it Iranian, American, a western or a juvenile delinquent teen drama?
One thing it absolutely is is a horror film. We get in The Girl one of the few truly iconic monsters of modern horror cinema (when so many horror films focus on psychological threat and fear) AND we get bouts of surreal excess worthy of a history of horror classics.
Prepare to be hypnotised by abs, revolted by the biting, and swept away by the gorgeous score and sounds of slurping as The Girl drains another one of her victims dry.
We present to you, A GIRL WALKS HOME ALONE AT NIGHT!